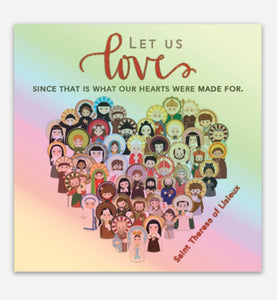 3" Vinyl Holographic Waterproof Saint quote Sticker. Let us Love Water bottle Saint Stickers. All Saints decal. St Therese decal.
These stickers are perfect for waterbottles, notebooks, laptops etc.!! They are very durable & weatherproof!
Thick, durable vinyl protects your die-cut stickers from scratching, rain & sunlight.
** Stickers are dishwasher safe and we recommend letting the stickers set up to 24 hours before running through them through a dishwasher or heavy use!
~ ITEM DETAILS ~
QUANTITY: 1
SIZE: 3"x3" die-cut vinyl, weatherproof stickers
MATERIAL: durable holographic vinyl material that is DISHWASHER SAFE!!
PACKAGING: cello sleeve
SHIPPING: USPS First Class Mail
~ INSTRUCTIONS ~
(1) PURCHASE THE LISTING
~ PRICING ~
See options from dropdown menu
Thank you for visiting Meyer Market Designs!
*If you're interested in purchasing in bulk, convo me and I can get you pricing.